Welcome to HungryMonster!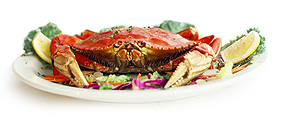 We're dedicated to bringing you the best recipes, cooking, restaurant and dining information on the Internet. Our service will educate, inform and make you hungry! Our mission is to present all aspects of dining at restaurants in your area, or wherever your destination may be. Our search tools and Cuisine and Food glossaries, allow you to make more informed decisions in your dining experience.
Learn More
Today's cuisine:
Jamaican
Jamaican cuisine is healthy because it is made with many unprocessed foods, uses smaller portions of meats, has a high content of fish, beans, and vegetables, and, most of all, because it is an eclectic mix of the best that African, European, Indian, and Chinese cuisines have to offer. Moreover, Jamaicans have always been aware of the relationship between food and health. Perhaps Jamaican cuisine (More)
Want Recipes for Jamaican Cuisine!
Learn More