Welcome to HungryMonster!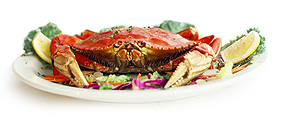 We're dedicated to bringing you the best recipes, cooking, restaurant and dining information on the Internet. Our service will educate, inform and make you hungry! Our mission is to present all aspects of dining at restaurants in your area, or wherever your destination may be. Our search tools and Cuisine and Food glossaries, allow you to make more informed decisions in your dining experience.
Learn More
Today's cuisine:
Hot Dog
Sausage is one of the oldest forms of processed food, having been mentioned in Homer's Odyssey as far back as the 9th Century B.C.
Frankfurt-am-Main, Germany, is traditionally credited with originating the frankfurter. However, this claim is disputed by those who assert that the popular sausage - known as a dachshund or little-dog sausage - was created in the late 1600's by Johann Georghehner(More)
Want Recipes for Hot Dog Cuisine!
Learn More