Welcome to HungryMonster!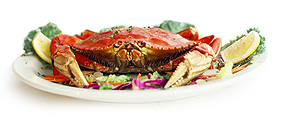 We're dedicated to bringing you the best recipes, cooking, restaurant and dining information on the Internet. Our service will educate, inform and make you hungry! Our mission is to present all aspects of dining at restaurants in your area, or wherever your destination may be. Our search tools and Cuisine and Food glossaries, allow you to make more informed decisions in your dining experience.
Learn More
Today's cuisine:
Polish
Polish food is hearty food made up of meat, vegetables, and grains. It is a cuisine you can feel at home with. Pork is the main meat in the cuisine of Poland. Bread is a traditional Polish food. After summer harvest in villages all over the country farmers have a special celebration day called Dozynki, day of the end of harvest. That day, people gather together to sing, dance, thank God and taste (More)
Want Recipes for Polish Cuisine!
Learn More