Welcome to HungryMonster!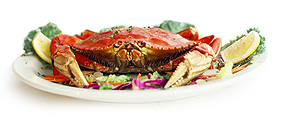 We're dedicated to bringing you the best recipes, cooking, restaurant and dining information on the Internet. Our service will educate, inform and make you hungry! Our mission is to present all aspects of dining at restaurants in your area, or wherever your destination may be. Our search tools and Cuisine and Food glossaries, allow you to make more informed decisions in your dining experience.
Learn More
Today's cuisine:
Tex-Mex
Tex-Mex is a highly spiced and vibrant style of cooking that was created as an extension and adaptation of Mexican cuisine to suit United States (specifically, Texan) tastes. The name is derived from Texas and Mexico, whose joint culinary heritage it is. Diana Kennedy, an influential food authority, first delineated the differences between Mexican cuisine and Americanized Mexican food in her 1972 (More)
Want Recipes for Tex-Mex Cuisine!
Learn More