Welcome to HungryMonster!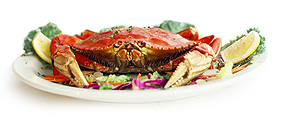 We're dedicated to bringing you the best recipes, cooking, restaurant and dining information on the Internet. Our service will educate, inform and make you hungry! Our mission is to present all aspects of dining at restaurants in your area, or wherever your destination may be. Our search tools and Cuisine and Food glossaries, allow you to make more informed decisions in your dining experience.
Learn More
Today's cuisine:
Scottish
The Scottish have their own national dishes, based upon wild products and food, locally produced in this northern region. They include oats, barley, fowl, game, mutton, salmon, herring, and haddock. Oat cakes, shortbread, black buns, bannocks, finnan haddies and haggis are specialties.
Source: by Lou Seibert Pappas
(
More
)
Want Recipes for Scottish Cuisine!
Learn More