Welcome to HungryMonster!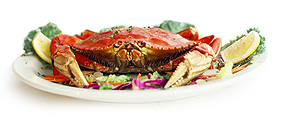 We're dedicated to bringing you the best recipes, cooking, restaurant and dining information on the Internet. Our service will educate, inform and make you hungry! Our mission is to present all aspects of dining at restaurants in your area, or wherever your destination may be. Our search tools and Cuisine and Food glossaries, allow you to make more informed decisions in your dining experience.
Learn More
Today's cuisine:
Portuguese
If you have never tried Portuguese cuisine you may be surprised to find that it is completely different from that of other European or East European countries. For centuries, Portugal has been isolated from the rest of Europe and, for that matter, from the world. Her Eastern coastline completely borders on the Atlantic ocean, while Spain frames it on the east and north. Although Portugal has had s(More)
Want Recipes for Portuguese Cuisine!
Learn More