Welcome to HungryMonster!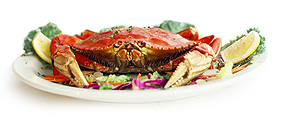 We're dedicated to bringing you the best recipes, cooking, restaurant and dining information on the Internet. Our service will educate, inform and make you hungry! Our mission is to present all aspects of dining at restaurants in your area, or wherever your destination may be. Our search tools and Cuisine and Food glossaries, allow you to make more informed decisions in your dining experience.
Learn More
Today's cuisine:
Greek
Its unique tastes are some of the things, which set Greece apart. You are in for pleasant culinary surprises. Contrary to common belief you will soon discover that Greek cuisine does not solely consist of mousaka, souvlaki and horiatiki salata.
Greek cuisine has a great variety of dishes and can be an extremely satisfying culinary adventure for both meat-eaters and vegetarians. It could not be (More)
Want Recipes for Greek Cuisine!
Learn More