Welcome to HungryMonster!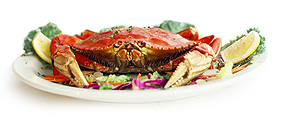 We're dedicated to bringing you the best recipes, cooking, restaurant and dining information on the Internet. Our service will educate, inform and make you hungry! Our mission is to present all aspects of dining at restaurants in your area, or wherever your destination may be. Our search tools and Cuisine and Food glossaries, allow you to make more informed decisions in your dining experience.
Learn More
Today's cuisine:
Italian: Tuscany
Tuscany: Florence, Sienna, Pisa, Livorno, Arezzo, Fiesole
Just as Dante executed a kind of coup...claiming de facto by his masterpiece the Commedia, that the local Florentine dialect was henceforth to be known as THE Italian vernacular...so Florentine cooking, especially that of the early Renaissance, has become the resonant voice of Italian food in European history. Great Florentine (More)
Want Recipes for Italian: Tuscany Cuisine!
Learn More