Welcome to HungryMonster!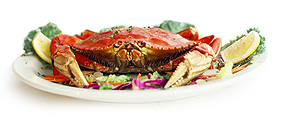 We're dedicated to bringing you the best recipes, cooking, restaurant and dining information on the Internet. Our service will educate, inform and make you hungry! Our mission is to present all aspects of dining at restaurants in your area, or wherever your destination may be. Our search tools and Cuisine and Food glossaries, allow you to make more informed decisions in your dining experience.
Learn More
Today's cuisine:
Szechwan
The most well-known characteristic of Szechwan cuisine is that the most unusual dishes can be made out of the most common materials. The taste is exclusive, numb and hot and good to promote appetite.
Szechwan cuisine is the spicy bombshell of China as chili is the main ingredient in all the dishes. The high chili quotient can be compared to Thai, Indian and Malay cuisine. I can vouch for this(More)
Want Recipes for Szechwan Cuisine!
Learn More