Welcome to HungryMonster!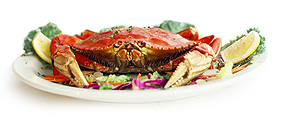 We're dedicated to bringing you the best recipes, cooking, restaurant and dining information on the Internet. Our service will educate, inform and make you hungry! Our mission is to present all aspects of dining at restaurants in your area, or wherever your destination may be. Our search tools and Cuisine and Food glossaries, allow you to make more informed decisions in your dining experience.
Learn More
Today's cuisine:
Tapas
Tapas: A Delightful Culinary Tradition from Spain!
A little History
Tapas are a Spanish meal of lots of little dishes to pick and choose from as you are enjoying a glass of ice-cold dry sherry. There are lots of different things you can use in a tapas selection and some are similar to the Italian antipasti. All of them are quick and easy to prepare and are mor(More)
Want Recipes for Tapas Cuisine!
Learn More