Welcome to HungryMonster!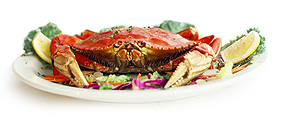 We're dedicated to bringing you the best recipes, cooking, restaurant and dining information on the Internet. Our service will educate, inform and make you hungry! Our mission is to present all aspects of dining at restaurants in your area, or wherever your destination may be. Our search tools and Cuisine and Food glossaries, allow you to make more informed decisions in your dining experience.
Learn More
Today's cuisine:
Nepalese
The Nepali cuisine, also known as cuisine of the Himalayas, bears uniqueness in that it merges two great culinary traditions of the region, namely Indian and Tibetan, into a mainstream culinary culture of its own, reflecting the geographic as well as demographic diversity that exists in the Himalayas. Nepal, a tiny country by any geometric measurements, stretches from the lowlands of the sub-tropi(More)
Want Recipes for Nepalese Cuisine!
Learn More