Welcome to HungryMonster!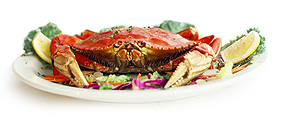 We're dedicated to bringing you the best recipes, cooking, restaurant and dining information on the Internet. Our service will educate, inform and make you hungry! Our mission is to present all aspects of dining at restaurants in your area, or wherever your destination may be. Our search tools and Cuisine and Food glossaries, allow you to make more informed decisions in your dining experience.
Learn More
Today's cuisine:
Californian
California cuisine is all about natural goodness, freshness and lots of fruits and vegetables: brick-oven pizzas on hand-tossed crusts with homemade fennel sausage, mescaline salads with herbs and toasted goat cheese, fresh breads from local bakeries, broiled Black Mission figs drizzled with locally made honey, sandwiches with sliced avocado and juicy tomatoes, grilled fish and poultry with piquan(More)
Want Recipes for Californian Cuisine!
Learn More