Welcome to HungryMonster!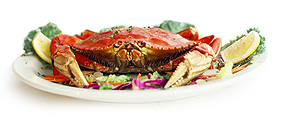 We're dedicated to bringing you the best recipes, cooking, restaurant and dining information on the Internet. Our service will educate, inform and make you hungry! Our mission is to present all aspects of dining at restaurants in your area, or wherever your destination may be. Our search tools and Cuisine and Food glossaries, allow you to make more informed decisions in your dining experience.
Learn More
Today's cuisine:
Roman
Roman Cooking!
While there is not a Roman haute cuisine, Rome has a long history of sumptuous feasting. In ancient Rome, banquets presented such elaborate displays of wealth that periodically; sumptuary laws were passed to control the waste. Hosts spent fortunes on their guests -- serving fish (sometimes guests were given the pleasure of watching the fish die slowly in a glass jar set(More)
Want Recipes for Roman Cuisine!
Learn More