Welcome to HungryMonster!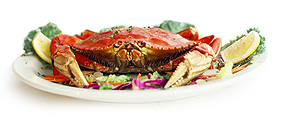 We're dedicated to bringing you the best recipes, cooking, restaurant and dining information on the Internet. Our service will educate, inform and make you hungry! Our mission is to present all aspects of dining at restaurants in your area, or wherever your destination may be. Our search tools and Cuisine and Food glossaries, allow you to make more informed decisions in your dining experience.
Learn More
Today's cuisine:
Finnish
Finnish cuisine appeals to both the eye and the taste buds, and has something special for every month of the year. In Finland, design textiles and tableware are an important element in the art of good eating. Salmon and fish are important part of the finnish diet.
Source: HungryMonster Writers
(
More
)
Want Recipes for Finnish Cuisine!
Learn More