Welcome to HungryMonster!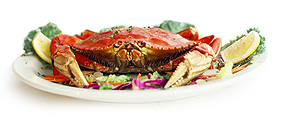 We're dedicated to bringing you the best recipes, cooking, restaurant and dining information on the Internet. Our service will educate, inform and make you hungry! Our mission is to present all aspects of dining at restaurants in your area, or wherever your destination may be. Our search tools and Cuisine and Food glossaries, allow you to make more informed decisions in your dining experience.
Learn More
Today's cuisine:
Myanmar
The regional food is hot and spicy. Fish, rice, noodles and vegetables spiced with onions, ginger, garlic and chilies are the common local ingredients. Local dishes include lethok son (a sort of spicy vegetarian rice salad), mohinga (fish soup with noodles) and oh-no khauk swe (rice noodles, chicken and coconut milk). The avocados by Inle Lake are very good. Delicious fruits are available in the m(More)
Want Recipes for Myanmar Cuisine!
Learn More