Welcome to HungryMonster!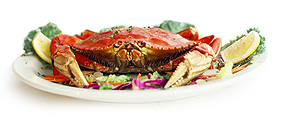 We're dedicated to bringing you the best recipes, cooking, restaurant and dining information on the Internet. Our service will educate, inform and make you hungry! Our mission is to present all aspects of dining at restaurants in your area, or wherever your destination may be. Our search tools and Cuisine and Food glossaries, allow you to make more informed decisions in your dining experience.
Learn More
Today's cuisine:
Japanese
The cuisine of Japan is shaped by its four distinct seasons and by regions. It is a cuisine that first and foremost delights the senses -- in Japan, the eyes, nose, and palate feast along with the stomach. The essence of Japanese cuisine is based on various elements of taste, cooking techniques, and the use of the freshest seasonal ingredients.
Source: Lucy Seligman
(
More
)
Want Recipes for Japanese Cuisine!
Learn More