Welcome to HungryMonster!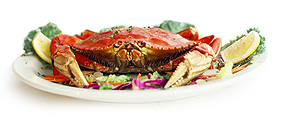 We're dedicated to bringing you the best recipes, cooking, restaurant and dining information on the Internet. Our service will educate, inform and make you hungry! Our mission is to present all aspects of dining at restaurants in your area, or wherever your destination may be. Our search tools and Cuisine and Food glossaries, allow you to make more informed decisions in your dining experience.
Learn More
Today's cuisine:
Tibetan
Tibetan cuisine is divided into two types: those of the pastoral and farming areas. The pastoral nomads basically consume meat and milk. Mutton and other types of meat, sometimes dried, are eaten in winter, while yogurt and cheese in summer. These foods are rich in protein and calories, but greasy. Green tea usually accompanies Tibetan meals. The farming population is fond of Zamba (roasted Qingke(More)
Want Recipes for Tibetan Cuisine!
Learn More