Welcome to HungryMonster!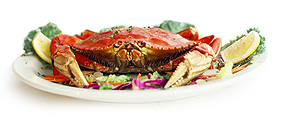 We're dedicated to bringing you the best recipes, cooking, restaurant and dining information on the Internet. Our service will educate, inform and make you hungry! Our mission is to present all aspects of dining at restaurants in your area, or wherever your destination may be. Our search tools and Cuisine and Food glossaries, allow you to make more informed decisions in your dining experience.
Learn More
Today's cuisine:
American
American cuisine varies with region, and it is quite naturally influenced by the many ethnic groups who immigrated here. The popular food in the southwest U.S. is Tex-Mex, which includes a lot of tortillas, hot salsas, beans, and burritos. In the southern United States, popular dishes include catfish, barbecue, cornbreads, vegetables, gravies, and pork. The New Orleans area is noted for its Cajun (More)
Want Recipes for American Cuisine!
Learn More