Welcome to HungryMonster!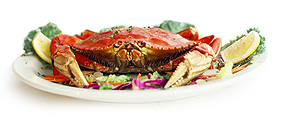 We're dedicated to bringing you the best recipes, cooking, restaurant and dining information on the Internet. Our service will educate, inform and make you hungry! Our mission is to present all aspects of dining at restaurants in your area, or wherever your destination may be. Our search tools and Cuisine and Food glossaries, allow you to make more informed decisions in your dining experience.
Learn More
Today's cuisine:
Australian
Australia's native plants (including wattle seed and lemon myrtle) and wild life (including kangaroo) combine in dishes to create earthy, delicious flavors. Such British favorites as scotch eggs and Shepherds Pie are often re-created with the native ingredients in mind.
Source: HungryMonster Writers
(
More
)
Want Recipes for Australian Cuisine!
Learn More