Welcome to HungryMonster!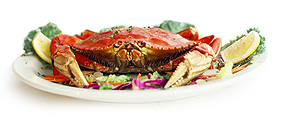 We're dedicated to bringing you the best recipes, cooking, restaurant and dining information on the Internet. Our service will educate, inform and make you hungry! Our mission is to present all aspects of dining at restaurants in your area, or wherever your destination may be. Our search tools and Cuisine and Food glossaries, allow you to make more informed decisions in your dining experience.
Learn More
Today's cuisine:
Singaporean
Singapore is a Gourmet's Paradise. With a long history as a major crossroads for the ancient spice route of the Orient, Singapore is literally the melting pot of Asia. Where else can one find a full range of the best of the diverse Chinese, Indian, Malay and Continental cuisine's, as well as some very unique blends of Singaporean dishes. Satay, Chilli Crab, Chicken Rice, Tiffin Curry, Nonya kueh(More)
Want Recipes for Singaporean Cuisine!
Learn More