Welcome to HungryMonster!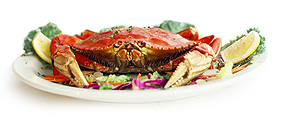 We're dedicated to bringing you the best recipes, cooking, restaurant and dining information on the Internet. Our service will educate, inform and make you hungry! Our mission is to present all aspects of dining at restaurants in your area, or wherever your destination may be. Our search tools and Cuisine and Food glossaries, allow you to make more informed decisions in your dining experience.
Learn More
Today's cuisine:
Ukrainian
Ukrainian cuisine is closely linked to the customs, culture and way of life of the Ukrainian people. It is famous for its diversity and quality of flavor. The dishes of Ukrainian cuisine are highly aromatic and contain a wide variety of herbs and spices, including garlic, parsley, dill, mint, mustard, pepper and cinnamon.
As an appetizing starter, slices of fresh cucumber and tomato together w(More)
Want Recipes for Ukrainian Cuisine!
Learn More