Welcome to HungryMonster!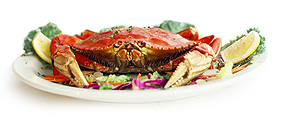 We're dedicated to bringing you the best recipes, cooking, restaurant and dining information on the Internet. Our service will educate, inform and make you hungry! Our mission is to present all aspects of dining at restaurants in your area, or wherever your destination may be. Our search tools and Cuisine and Food glossaries, allow you to make more informed decisions in your dining experience.
Learn More
Today's cuisine:
Swiss
Swiss cuisine is varied. The great specialty is fondue, the delicious concoction of Gruyère and Vacherin cheese, melted and mixed with white wine, flour, Kirsch and a little garlic. Other cheese specialties are Emmental and Tête de Moine. Regional specialties include viande sechée (dried beef or pork) from Valais and the Grisons where it is called Bündnerfleisch. The meat is cut wafer thin, wi(More)
Want Recipes for Swiss Cuisine!
Learn More