Welcome to HungryMonster!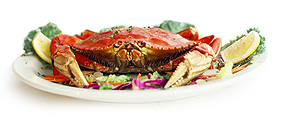 We're dedicated to bringing you the best recipes, cooking, restaurant and dining information on the Internet. Our service will educate, inform and make you hungry! Our mission is to present all aspects of dining at restaurants in your area, or wherever your destination may be. Our search tools and Cuisine and Food glossaries, allow you to make more informed decisions in your dining experience.
Learn More
Today's cuisine:
Icelandic
Icelandic food in general is based on fish and lamb, as well as owing much to Scandinavian and European influences. The salmon of Iceland is a great delicacy, served in many forms, one of the most popular being gravlax, a form of marination. Fishing is Iceland's most important export, accounting for some 80% of the country's gross national product. There is also a heavy emphasis on vegetables grow(More)
Want Recipes for Icelandic Cuisine!
Learn More