Welcome to HungryMonster!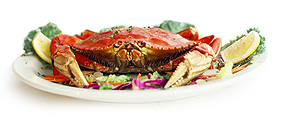 We're dedicated to bringing you the best recipes, cooking, restaurant and dining information on the Internet. Our service will educate, inform and make you hungry! Our mission is to present all aspects of dining at restaurants in your area, or wherever your destination may be. Our search tools and Cuisine and Food glossaries, allow you to make more informed decisions in your dining experience.
Learn More
Today's cuisine:
South African
Rainbow Cuisine defines the food style in South Africa. It's a term that reflects the cultural depth, creative spectrum, and spiritual unity of a diverse people. With 40 million inhabitants speaking 11 different languages, the country offers a fascinating potpourri of fresh, delectable, eclectic fare.
The food depicts a blend of many cultural societies -- European, Asian, and African -- with a (More)
Want Recipes for South African Cuisine!
Learn More