Welcome to HungryMonster!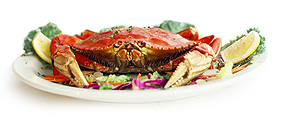 We're dedicated to bringing you the best recipes, cooking, restaurant and dining information on the Internet. Our service will educate, inform and make you hungry! Our mission is to present all aspects of dining at restaurants in your area, or wherever your destination may be. Our search tools and Cuisine and Food glossaries, allow you to make more informed decisions in your dining experience.
Learn More
Today's cuisine:
Spanish
Its history began with Phoenician, Greek, and Carthaginian coastal settlements. Later the Romans, and more importantly the Moors, brought with them elements of their own cooking that lingered and blended with Spain's culinary heritage. Imports from the New World included the tomato, potato, sweet potato, vanilla, chocolate, and many varieties of beans, zucchini, and the pepper tribe. There are oli(More)
Want Recipes for Spanish Cuisine!
Learn More