Welcome to HungryMonster!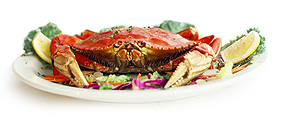 We're dedicated to bringing you the best recipes, cooking, restaurant and dining information on the Internet. Our service will educate, inform and make you hungry! Our mission is to present all aspects of dining at restaurants in your area, or wherever your destination may be. Our search tools and Cuisine and Food glossaries, allow you to make more informed decisions in your dining experience.
Learn More
Today's cuisine:
German
Typical German cuisine varies according to each German State's culinary tradition, to its regional agriculture, and to the new tastes of new Germans who have settled in the reunited Germany. Nordrhein Westfalen, Rheinland-Pfalz, Saarland and Baden-Wuertenburg's traditional specialties, for example, include ingredients typified in the agriculture around the Black Forest and the Rhein river, and b(More)
Want Recipes for German Cuisine!
Learn More