Welcome to HungryMonster!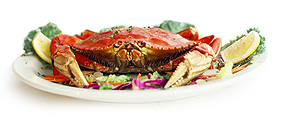 We're dedicated to bringing you the best recipes, cooking, restaurant and dining information on the Internet. Our service will educate, inform and make you hungry! Our mission is to present all aspects of dining at restaurants in your area, or wherever your destination may be. Our search tools and Cuisine and Food glossaries, allow you to make more informed decisions in your dining experience.
Learn More
Today's cuisine:
Vietnamese
Vietnamese cooking is varied and usually very good. It is a mixture of Vietnamese, Chinese and French traditions, with a plethora of regional specialties. As in all countries of the region, rice or noodles usually provide the basis of a meal. Not surprisingly, fish is plentiful. Breakfast is generally noodle soup locally known as pho (pronounced 'fur'). French-style baguettes are available through(More)
Want Recipes for Vietnamese Cuisine!
Learn More