Welcome to HungryMonster!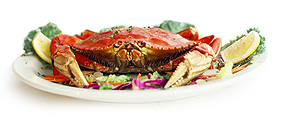 We're dedicated to bringing you the best recipes, cooking, restaurant and dining information on the Internet. Our service will educate, inform and make you hungry! Our mission is to present all aspects of dining at restaurants in your area, or wherever your destination may be. Our search tools and Cuisine and Food glossaries, allow you to make more informed decisions in your dining experience.
Learn More
Today's cuisine:
Dim Sum
Dim sum is based on Cantonese dim sum, it is all good at color, fragrance, taste and shape, its characteristic is that the ingredients used are of best quality and plentiful, variety is numerous, style is novel, tastes are various, it suits the needs of every eater and four seasons.
Source: HungryMonster Writers
(
More
)
Want Recipes for Dim Sum Cuisine!
Learn More