Welcome to HungryMonster!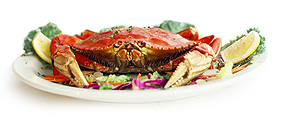 We're dedicated to bringing you the best recipes, cooking, restaurant and dining information on the Internet. Our service will educate, inform and make you hungry! Our mission is to present all aspects of dining at restaurants in your area, or wherever your destination may be. Our search tools and Cuisine and Food glossaries, allow you to make more informed decisions in your dining experience.
Learn More
Today's cuisine:
Fusion
Fusion cuisine combines elements of various culinary traditions whilst not fitting specifically into any. The term generally refers to the innovations in many contemporary restaurant cuisines since the 1970s.
Success of this type of restaurants depends on diversity of cultures in their clientele. For that reason, they are welcome in places like California.
Source: HungryMonster Write(More)
Want Recipes for Fusion Cuisine!
Learn More