Welcome to HungryMonster!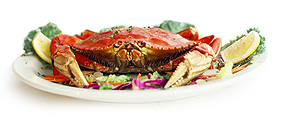 We're dedicated to bringing you the best recipes, cooking, restaurant and dining information on the Internet. Our service will educate, inform and make you hungry! Our mission is to present all aspects of dining at restaurants in your area, or wherever your destination may be. Our search tools and Cuisine and Food glossaries, allow you to make more informed decisions in your dining experience.
Learn More
Today's cuisine:
Pakistani
Pakistani cuisine is based on curry or masala (hot and spicy) sauces accompanying chicken, lamb, shrimps and a wide choice of vegetables. Specialities include brain masala, biryani (seasoned rice with mutton, chicken and yoghurt), pilao (similar but less spicy) and sag gosht (spinach and lamb curry). Lahore is the centre for Mogul-style cuisine known as moghlai. Specialities include chicken tandoo(More)
Want Recipes for Pakistani Cuisine!
Learn More