Welcome to HungryMonster!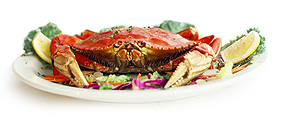 We're dedicated to bringing you the best recipes, cooking, restaurant and dining information on the Internet. Our service will educate, inform and make you hungry! Our mission is to present all aspects of dining at restaurants in your area, or wherever your destination may be. Our search tools and Cuisine and Food glossaries, allow you to make more informed decisions in your dining experience.
Learn More
Today's cuisine:
Ethiopian
As with its cuisine, landlocked Ethiopia lies somewhat separate from its Mother Africa. Its main borders with Kenya, Somalia, and Sudan can be easily drawn along an encircling rim of high mountain peaks — some of them reaching over 15,000 feet. Transportation is difficult in this terrain, which is why Ethiopia has maintained its purity — relatively uninfluenced by neighboring countries and the(More)
Want Recipes for Ethiopian Cuisine!
Learn More