Welcome to HungryMonster!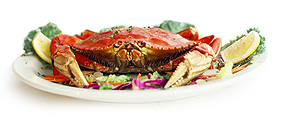 We're dedicated to bringing you the best recipes, cooking, restaurant and dining information on the Internet. Our service will educate, inform and make you hungry! Our mission is to present all aspects of dining at restaurants in your area, or wherever your destination may be. Our search tools and Cuisine and Food glossaries, allow you to make more informed decisions in your dining experience.
Learn More
Today's cuisine:
Cuban
Most people who have never experienced a Cuban meal assume that the taste is similar to Mexican food. Actually, Cuban recipes share spices and techniques in common with Spanish cooking, not Mexican, with a little Caribbean thrown in for flair and flavor.
Source: HungryMonster Writers
(
More
)
Want Recipes for Cuban Cuisine!
Learn More