Welcome to HungryMonster!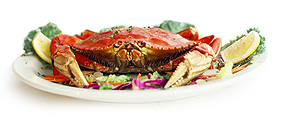 We're dedicated to bringing you the best recipes, cooking, restaurant and dining information on the Internet. Our service will educate, inform and make you hungry! Our mission is to present all aspects of dining at restaurants in your area, or wherever your destination may be. Our search tools and Cuisine and Food glossaries, allow you to make more informed decisions in your dining experience.
Learn More
Today's cuisine:
Belgian
Cooking techniques and ingredients of the invaders were acquired by the natives, who by the Middle Ages developed a cuisine of their own. Today Belgians proudly say their food is cooked with French finesse and served with German generosity.
The country is famous for its mussels and frites (French-fried potatoes), waffles, and endive. Fine chocolates are a passion and exquisite chocolatiers dot (More)
Want Recipes for Belgian Cuisine!
Learn More