Welcome to HungryMonster!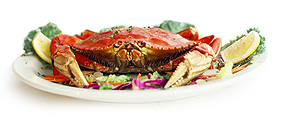 We're dedicated to bringing you the best recipes, cooking, restaurant and dining information on the Internet. Our service will educate, inform and make you hungry! Our mission is to present all aspects of dining at restaurants in your area, or wherever your destination may be. Our search tools and Cuisine and Food glossaries, allow you to make more informed decisions in your dining experience.
Learn More
Today's cuisine:
Hungarian
Maybe you have already heard of the delights of Hungarian cuisine. The traditional Hungarian dishes abound in piquant flavors and aromas. Dishes are flavorful, spicy and often rather heavy. People with a sensitive stomach, should be careful. Flavors of Hungarian dishes are based on centuries old traditions in spicing and preparation methods. Paprika and garlic is found in most dishes.
Source: (More)
Want Recipes for Hungarian Cuisine!
Learn More