Welcome to HungryMonster!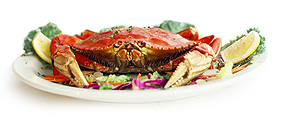 We're dedicated to bringing you the best recipes, cooking, restaurant and dining information on the Internet. Our service will educate, inform and make you hungry! Our mission is to present all aspects of dining at restaurants in your area, or wherever your destination may be. Our search tools and Cuisine and Food glossaries, allow you to make more informed decisions in your dining experience.
Learn More
Today's cuisine:
Cajun
In the later part of the seventeenth century, the Spanish encouraged European aristocrats to settle in South Louisiana and develop the city of New Orleans. The Creole style of cooking came from both the Europeans and from the Spanish themselves. It is a cuisine much like the French provincal style of cooking where lots of fresh herbs, spices and vegetables are used. Sauces are rich and flavorful u(More)
Want Recipes for Cajun Cuisine!
Learn More